Community Services
Community Wi-Fi Hotspots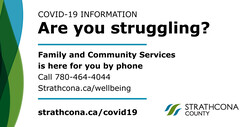 Family and Community Services offices are closed to visitors - we are still here for you by phone.
Family and Community Services is still available to assist you with parenting supports and other concerns related to finances, stress, relationships and others by phone.
 Please call 780-464-4044 to speak to our team during regular operating hours times listed below:
Mondays & Fridays 8:30 a.m. to 4:30 p.m.
Tuesdays, Wednesdays & Thursdays 8:30 a.m. to 8 p.m.
A podcast produced by Alberta Health Services on COVID-19: https://www.albertahealthservices.ca/news/Page15434.aspx that you might find informative.