Two evenings have been set aside for our upcoming Parent-Teacher Interviews.  This term the evenings of Monday, March 18 and Wednesday, March 20 are when teachers will be at school between 4:30pm and 7:30pm to meet with parents and students to discuss student progress.  This website will be open from Monday, March 11 at 8am until Friday, March 15 at noon.
https://www.schoolinterviews.ca/code?code=qfrb3
Parent Survey 2018-19 We want to hear from you!
What's Happening at Clover Bar Jr. High?
Check back here each month to see what is on the go at Clover Bar Jr. High.
There is always something exciting happening! 
Jr. High Information Night April 9th
Open to parents of Grade 6 students.  Join us for an evening hosted by the staff at Clover Bar Jr. High.  The evening will begin at 6:15 in the gym with an introduction to our teachers and administrative team.
Students helping students
This program will continue throughout the term.  If you are interested in extra help by taking advantage of this program, please see Mrs. Ackerman in the library. 
Successful Run for the Wizard of Oz!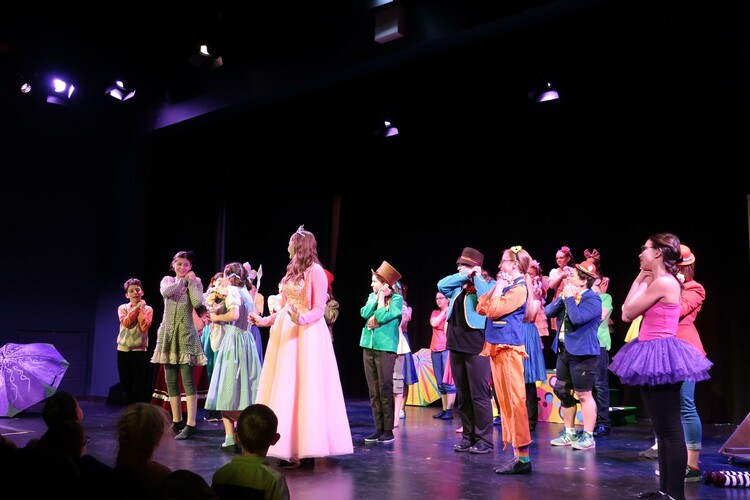 We are over the moon!!! This show and these kids were so incredibly magical. We want to thank everyone that has come to support and cheer on our cast and crew.
  A huge THANK YOU to Ms. Laurie & Ms. Thorne for all their work for making this production a success. And to our behind the scenes helpers Mr. Kohlenberg, Mr. Timanson and Mr. Haman for their help with the sets and artwork!
Without the support and understanding of all of the Staff at Clover Bar Jr. High, this event would not have been possible.
Kudos to the Amazing Cast and Crew!
Parking Update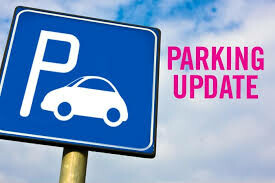 The spring will see changes to parking at Cloverbar Jr. High.  Changes to include Bus Only Parking in front of the school, and on street only drop-off for students.  Stay tuned for more updates. 
Clover Bar Soccer Get Advice from the Professionals
Students in Clover Bar Junior High's soccer program were visited by a special guest in December—professional soccer player, Tosaint Ricketts. Originally from Edmonton, Ricketts talked to students about the path he took to become a professional athlete and answered questions about his life as a national soccer star. "It was a great experience to learn from a professional," says Aiden Hawrelechko, a student in Clover Bar's soccer program. "It's helpful to be able to understand how he was able to turn soccer into his career."
The take-away lessons varied from student to student, but most saw it as an eye-opener to refocus on their own personal goals. Ricketts' success as a professional athlete didn't come about by chance, it was the product of a lot of hard work and dedication. He stressed to students how important it was for him to focus on university-level play, and to take advantage of the athletic scholarships that are available for those who push themselves to excel.
The visit wasn't all talk, however. After the more formal presentation, the students got to head out onto the field along with Ricketts to measure their own skills against a professional. "We all had a lot of fun but the students also treated it as a serious test of their abilities," says Jeff Burback, the head coach of the soccer program. "They all wanted to try to best him in a one-on-one match."
While the students may have a bit more work to do before they reach the professional level, they came away from the experience with new drive and a clear goal in mind.
First Batch of Hats
The group at Loom Noggins have been busy!  This is their first batch of knitted hats for donation.  They are still accepting donations of yarn to help them keep up with demand!
Knights Wear Swag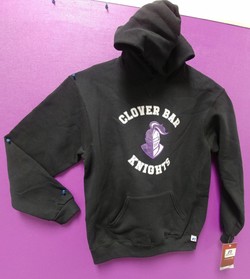 Knights wear clothing is now available for purchase using your Power School Portal under "student fees."  Please follow the link below.
School Fees
Families are invoiced for school fees at the beginning of every school year. Fees are due within 30 days of the invoice date. The simplest, and most convenient, way to pay schools fees is by logging in to the PowerSchool Parent Portal and clicking on "Student Fees." If circumstances exist where you are unable to pay your students fees, you can apply to have fees waived by submitting an Application for a Waiver of Fees.
For more information:
EIPS fees and waivers
Clover Bar Junior High fees
Student Transportation fees
Division News