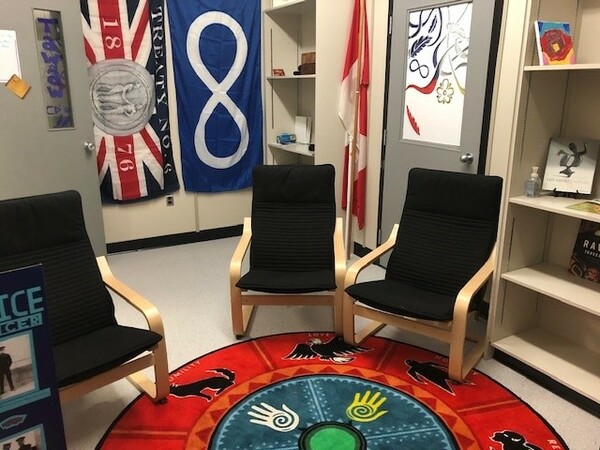 Indigenous Room 2023-2024
Welcome to Clover Bar's Indigenous Room
We acknowledge with respect the history and culture of the peoples with whom Treaty 6 was signed and the land upon which Elk Island Public Schools reside. We also acknowledge the traditional homeland of the Métis Nation.
We recognize our responsibility as Treaty members and honour the heritage and gifts of the First Peoples.
We commit to moving forward in partnership with Indigenous communities in a spirit of collaboration and reconciliation.
First Nations Resources at EIPS
National Indigenous History Month
National Indigenous History Month | June
Did you know June is National Indigenous History Month? We're looking forward to sharing how EIPS learns and celebrates the diversity, histories, cultures and contributions of First Nations, Métis and Inuit in future newsletters.  
National Indigenous Peoples Day | June 21
National Indigenous Peoples Day is also celebrated in June. At Clover Bar we will be featuring music, visual slides and a special announcement. You may also want to check out this site to find out what is being planned in Edmonton and the surrounding territory. Due to COVID-19 realities, many events will be online again this year.
Alberta Métis Fest | June 26
Calling all Métis Albertans! The 3rd Annual Alberta Métis Fest is coming Saturday, June 26. Get ready for a day full of musical performances, door prizes and Métis art! Tune in from 10 a.m. to 5 p.m. virtually through albertametis.com and livestreams on the Métis Nation of Alberta Facebook page.
Gratitude for Gatherings We're grateful to Elder Wilson Bearhead for opening our virtual parent and family gatherings in a good way and for being witness to all of our conversations earlier this year. We hope to continue hosting sessions next school year. Remember, if you have any questions, concerns or ideas to share, reach out to the new lead teacher at Clover Bar Junior High, Mr. Clay Haman, or connect with the First Nations, Métis and Inuit team. 
We'd like to extend our heartfelt thanks for all parents and family members who attended our virtual parent gatherings this school year. In fact, this newsletter is one direct result of ideas shared at the gatherings. We're grateful to all who joined in conversation and look forward to continuing to build our connections in the 2021-22 school year. 
Support available During this time of mourning for the 215 children found, there are supports available. Please reach out—someone is waiting to take your call.
MNA Wellness Program: 1-877-729-0261
Kids Help Phone: 1-800-668-6868
Indian Residential School Survivor Society: 1-800-721-0066
National Indian Residential School Crisis Line: 1-866-925-4419 (24 hours a day/7 days a week)
Programs for Métis Families For Métis citizens, the Métis Nation of Alberta has many programs to support youth and families. Check out the free programming and supports for youth and family supports available.
Edmonton Indigenous Relations Bulletin Stay up-to-date on events and initiatives in the Edmonton area—subscribe to the City of Edmonton's Indigenous Relations Community Bulletin.

Join a Virtual Sharing Circle Want to connect with others during these challenging COVID times? The Creating Hope Society is hosting weekly zoom sharing circles with Elder Darwin every Wednesday from 9 a.m. to 11 a.m. Log in to the zoom sharing circle with Meeting ID: 961 4943 3012 and Passcode: 508644.