Welcome to the Library / Learning Commons!
Welcome to the Clover Bar Library / Learning Commons!
What is a Learning Commons?
An inclusive, flexible, learner-centered space for collaboration, inquiry and imagination to expand and deepen learning. We hope you enjoy this space, and we work hard to make it inviting and welcoming.
Our role is to support the curricular needs of the students, as well as offer many options for homework and research assistance, along with recreational reading. The goal of our school library is to provide a destination where students can find books that they want to read, or where teachers can find books that they can share with students.
At Clover Bar Junior High, we aim to create a positive environment with with age, interest, and level-appropriate reading material, as well lots of encouragement and support for our students' extra-curricular reading. We encourage our students to use our space for inquiry, learning and social connection.
We are open daily to students, including before and after school, as well as during lunch from 12:05 - 12:45.
Policies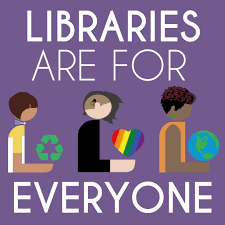 Please familiarize yourself with the lending policies. Care of books, safe spaces for materials, and lending policies are important to the ongoing care and maintenance of our library. The space and its materials belong to everyone at our school and as such we must all contribute with respectful, responsible actions and attitudes. 
Students are able to borrow up to 5 books at one time.
Books are checked out for 3 weeks at a time, and students may renew their books once for a total of 6 weeks with one book. The exception being if another student has placed a hold on the book, the item may not be renewed by the student who currently has it checked out.
Once a book is overdue, students receive two reminders to return or renew their item.
If the overdue item is not returned within an appropriate period of time, it is considered lost, and the replacement cost will be added to the student's fees.