Clover Bar Soccer Academy
Clover Bar Junior High is excited to continue to offer the Soccer Program as part of its athletic and academic programs. The Soccer Program at Clover Bar Junior High has been in existence for over 10 years and provides student athletes the opportunity to pursue their passion in the classroom, and on indoor and outdoor fields.
Information regarding the Clover Bar Soccer Program can be found throughout this website.
Follow us on Twitter:  @CloverbarSoccer for updated information.
If you have any further questions you can contact the school via phone at 780-467-2295 or email the soccer coach/teacher (Jeff Burback)
If your student is getting picked up from a Tournament, Millennium Place,  or remaining at MP after soccer to continue training, we now require a form signed by their parents or guardian.  Waiver Form
"At a young age winning is not the most important thing... the important thing is to develop creative and skilled players with good confidence." - Arsene
Expectations & Standards
Clover Bar Mission Statement:
The Clover Bar Soccer Program creates an environment which allows students to combine their passion for soccer with their academic studies. The soccer program provides an environment to assist in our student's development technically, tactically, as well as academically. All Clover Bar coaches and staff focus on personal improvement, enjoyment of the game, the pursuit of excellence, honesty, and integrity.
Philosophy of the Soccer Program:
The Clover Bar program provides student athletes the opportunity to develop technically, physically, and psychologically within the game of soccer.  Our program is based on the Canadian Soccer Associations' Long Term Player Development Model (LTPD), which allows for a strong player centered and coach driven environment. The Clover Bar program encourages and supports participation for both boys and girls from grades 7 through 9.
Schedule
Soccer Schedule
Schedule for Tournament Friday December 14th.
SMALL FIELD
TIME TEAM 1          TEAM 2         
10:15- 11:00      St. Albert Elementary St. Ed's Elementary      FULL
11: 05- 11:50     St. Albert  #1   St. Ed's Grp #1           FULL
            BREAK- O'Leary                   
1:30- 2:15         St. Albert Elementary St. Ed's Elementary      FULL
LARGE FIELD
TIME TEAM 1          TEAM 2         
10:40 -11: 20     Clover Bar  #1             St. Ed's Grp 4 (A)        South
            St. Albert  #2   St. Ed's  Grp. 4 (B)      North
11:25- 12:05      Clover Bar (2) St. Ed's Grp #1           South
            St. Albert #1    St. Ed's Grp. #2           North
12:10- 1:00        Clover Bar #1 St. Ed's  Grp 4 (B)       South
            St. Albert #2    St. Ed's  Grp. 4 (A)      North
1:10- 2: 00        Clover Bar 2    St. Ed's Grp. #2           South
            Clover Bar #1 St. Albert #2    North
St. Albert  Elementary
St. Albert #1- Grades 6/7
St. Albert # 2- Grades 8/9
St. Ed's Elementary
St. Ed's  # 1 ( Group 2/ ½ -3)
Ed's # 2  ( Grp 3- ½)
St. Ed's Group 4 (A) 
St. Ed's Group 4 (B)
Clover Bar 1- older group
Clover Bar 2- younger group
Yearly Schedule:
September and October at Clover Bar Junior High
November through March at Millennium Place
April through June at Clover Bar Junior High
Weekly Schedule for the Year:
 Every second afternoon the soccer afternoon will have one of these activities:
Station Day:  Where students rotate stations every 15 minutes and may include the following:  Fitness, SAQ's (Speed, Agility, Quickness), Technique, Small-sided activities and/or games, and Attacking/Defending principles
Training Day:  Group work, where students will do various drills, exercises, and activities based on a monthly theme
G.A.G. Day:  Students participate in a game, followed by an activity (based on monthly theme), followed by another game where the activity is incorporated into the game
Games Day:  Students may participate in full-field games to half-field games, to small-sided competition games.
STM SOCCER TOURNAMENT December 8 and 9.  Permission forms are under the FORMS tab and PERMISSION Forms
TIER 2
Thurs Dec 8  8:45 -  9:45  STM 1 vs CLB  (Field 2 West Soccer Centre)
Thurs Dec 8 10:45 - 11:45 St. Nick vs CLB (Field 3 West Soccer Centre)
Fri Dec 9      9:45 - 10:45 STM 2  vs CLB  (Field 2 West Soccer Centre)
Fri Dec 9     12:45 - 1:45 St. Nick 1 vs CLB (Field 3 West Soccer Centre)
TIER 3

Thurs Dec 8  8:45 - 9:45  CLB vs STM   (Field 1 West Soccer Centre)
Thurs Dec 8   11:45 - 12:45  St. Nick 1 vs CLB (Field 1 West Soccer Centre)
Fri Dec 9      8:45 - 9:45  St. Nick 2 vs CLB (Field 2 West Soccer Centre)
Fri Dec 9     10:45 - 11:45  St. Ed vs CLB (Field 1 West Soccer Cenre) 
History
The Clover Bar Soccer Program came into existence in 2005-06.  Under the Principal Roxy Harbourne, the school began a soccer program designed to allow students who are passionate about the sport of soccer to pursue their individual goals while in an academic environment in the Sherwood Park & Strathcona County area. It was and still is a skill based program where individuals develop and excel at improving their skills through a soccer curriculum designed to meet their needs as athletes. The program began with approximately a dozen students, to a class between 60-70 students per year.
Over the years the Clover Bar Soccer Program has had various people and coaches come in to work with the students.  The range of guest coaches have been current Women's Team Canada players, F.C. Edmonton coaches and players, numerous U of A and Grant MacEwan varsity athletes, and members of Sherwood Park Physiotherapy (to discuss knee injury prevention).
Many students both male and female, have moved on to pursue soccer at the collegiate level, whether it be local, provincial, national, or NCAA.
Coaching Staff
Daniel Drummond (Head Coach & Director):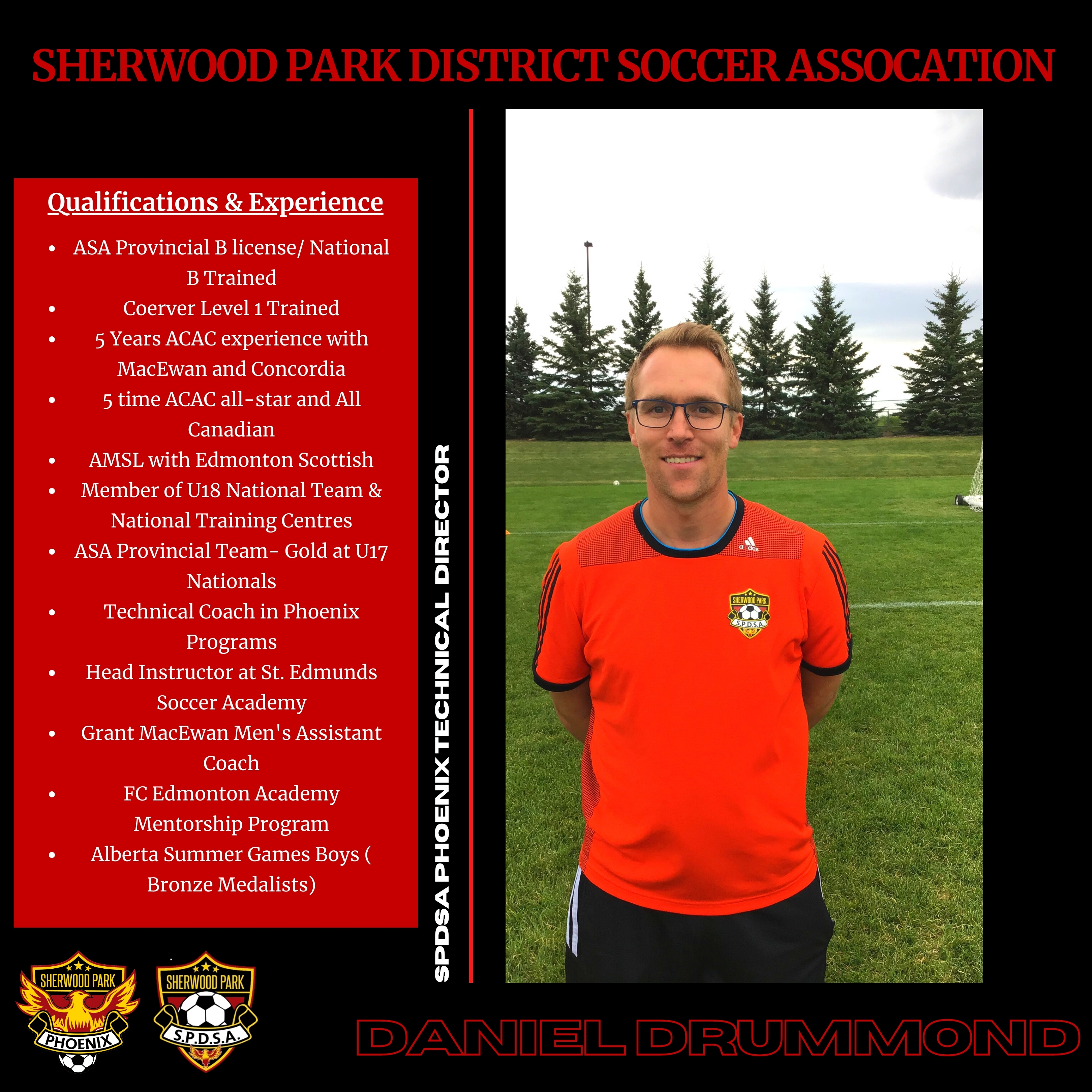 Jeff Burback:
Coaching
NCCP Soccer Level 1 and 2
NCCP Multisport Theory 1 and Theory 2
Grassroots EMSA West
3 years coaching community,
3 years coaching club (Rangers aka Phoenix)
7 years coaching varsity (Bev Facey High School)
10 years coaching Clover Bar Soccer
Playing Experience
10+ time provincial medalist from youth (Sherwood Park Rangers) to Men's (Western Villa, Sherwood Park Dreadnaughts), to Master's (Karpaty, Scottish United)
Past Coaching Staff:
Graeme Dickson (currently in Liverpool)
Alesha Weicker 
FAQ
FREQUENTLY ASKED QUESTIONS:
How often do students participate in the soccer program?
Our school runs on a 6-day rotation.  Every even or second day in the afternoon students take part in the soccer program.
What skill level does my son or daughter have to be at to be in the program?
We accept all skill levels of players.  Our range of students vary from community players who are playing soccer for the first time, to tier one players who have been in Nationals.  At the start of each year coaches determine where the best fit is for the students, and place students based on their abilities.  
What does a soccer day look like for a soccer student?
Each student in the class goes from core subject to core subject in the morning.  After lunch soccer students will get changed and head out to the pitch to train for the full afternoon.  During indoor, students load a school bus and transported to and from Millennium Place for the afternoons.
What do soccer students do when the weather outside is poor?
When the weather is bad, students will head into the school.  Usually students will work through health related outcomes, and if the gym is available they will still do some soccer activities.  If the weather is known to be poor in advance, guest speakers are sometimes brought in.
Is there a league that the students play in?
No.  Elk Island Public Schools does not have a soccer league at the Junior High Level.  Although our program focus is on individual development, we do have exhibition games versus Edmonton Soccer Academies.  We also enter indoor and outdoor soccer tournaments in the city to challenge our students and to improve team-work skills.
How much is the program?
Our projected cost is $1750 which is very competitive with the cost of academies in the city.  Please contact the office if there is any changes to the cost for next year.  The costs cover:  Bus Transportation, Field Rentals, Hiring of Coaches, Equipment, Tournament Entry Fees, Clothing for Students.  
How do I register my son/daughter into the program? 
Contact Serena Carleton at 780 467-2295 or by email:  serena.carleton@eips.ca
Clover Bar Soccer Get Advice from the Professionals
Students in Clover Bar Junior High's soccer program were visited by a special guest in December—professional soccer player, Tosaint Ricketts. Originally from Edmonton, Ricketts talked to students about the path he took to become a professional athlete and answered questions about his life as a national soccer star. "It was a great experience to learn from a professional," says Aiden Hawrelechko, a student in Clover Bar's soccer program. "It's helpful to be able to understand how he was able to turn soccer into his career."
The take-away lessons varied from student to student, but most saw it as an eye-opener to refocus on their own personal goals. Ricketts' success as a professional athlete didn't come about by chance, it was the product of a lot of hard work and dedication. He stressed to students how important it was for him to focus on university-level play, and to take advantage of the athletic scholarships that are available for those who push themselves to excel.
The visit wasn't all talk, however. After the more formal presentation, the students got to head out onto the field along with Ricketts to measure their own skills against a professional. "We all had a lot of fun but the students also treated it as a serious test of their abilities," says Jeff Burback, the head coach of the soccer program. "They all wanted to try to best him in a one-on-one match."
While the students may have a bit more work to do before they reach the professional level, they came away from the experience with new drive and a clear goal in mind.